Safe Boats delivers first Stormer Marine workboat to US customer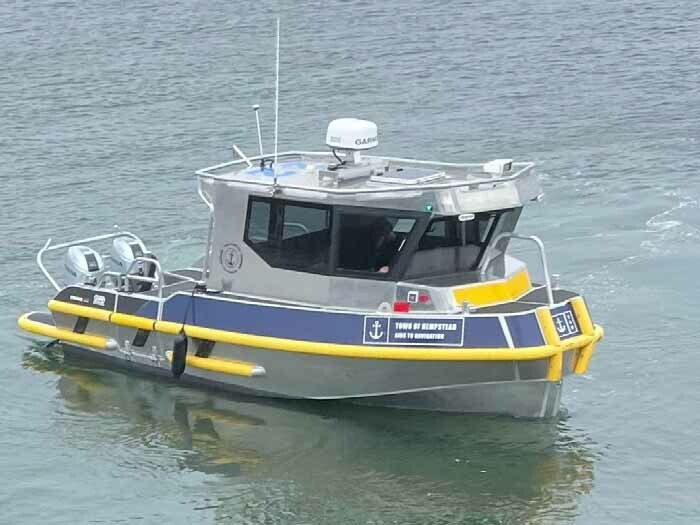 April 15, 2021
The Town of Hempstead, NY Harbormaster recently took delivery of the first Assault Navy work boat built under license contract by Safe Boats International.
The 6.8 meter (22′) Porter 68S, delivered at the end of January, was recently commissioned in the waters around the town of Hempstead.
Through this Jones Act compliant licensing agreement between Safe Boats International and Stormer Marine, SAFE Boats can now offer the full line of Stormer workboats to US operators.
Stormer work boats complement the Safe Boats product line, offering platforms ranging from 4.5 meter (14.7′) center console open work boats to 12 meter (39′) twin engine cabin boats . Stormer and Safe Boats share a mission and culture dedicated to delivering bespoke vessels that meet their customers' specific applications.
"As the largest town in the country patrolling over 180 miles of coastal waterways, Hempstead Town was looking for the perfect boat to serve our community," Hempstead Town Supervisor Don Clavin said in a statement announcing the delivery. "The Stormer Porter is the versatile 'on-the-water van' we needed for our fleet, and it's already proven itself towing piles, resetting buoys, pulling floats, logging depth readings and helping to move barges through our waterways. The vessel was able to perform all of the tasks at hand but, more importantly, to bring our crew back to dock safely at the end of each voyage. We thank Safe Boats International for providing the town of Hempstead with a state of the art, high horsepower machine which will certainly be put to the test this summer and throughout the year on the local waterways."
Stormer Marine BV is a Dutch shipyard, located in Amsterdam, which builds work boats for demanding customers all over the world. The Stormer team combines Dutch shipbuilding craftsmanship with the latest technology in marine design, engineering, construction and propulsion. Applications include patrol, rescue, harbor service, firefighting, surveillance, contracting, towing, surveying and transportation services.